Actually these are two Articles of the Day, but they are related. The first is about abortion and the second is about the death penalty. These topics should be enough to get our blood boiling. More importantly, are the topics important enough to get us thinking seriously? One thing I like about the first article is that includes come factual data that is informative.
If you want to see the Cartoon of the Day, click on the BLOG button at the top of the page.
Questions:
Who should have a voice in the debate? Are women's voices more important than men's?
Are the two issues related?
How do you make up your mind about your point of view on these issues–emotion, political point of view, theological point of view, other?
https://www.bbc.com/news/world-us-canada-48262238
Should men have a say in abortion debate?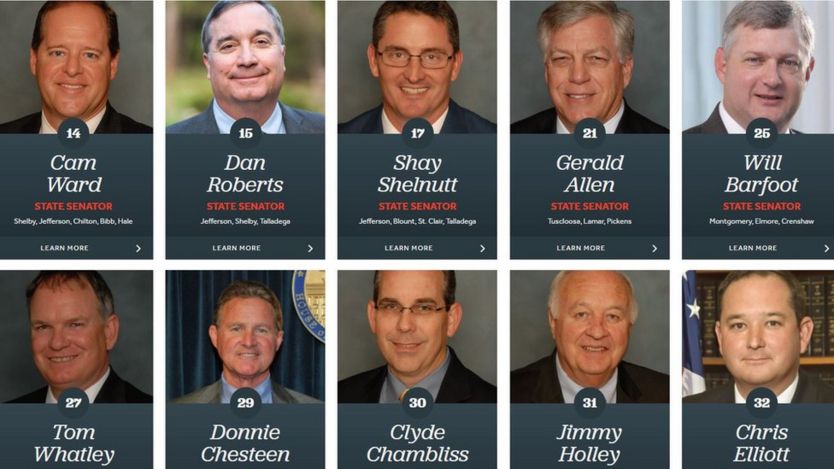 Most of the US state laws banning or severely restricting access to abortions have been voted on by male politicians. Should men have the right to rule on an issue that impacts women so intimately?
The corridors leading up to the Alabama Senate are lined with black-and-white photographs of past legislative sessions – each framed poster like a yearbook page from a distinctly male-only school.
But inside the dim public gallery, looking down onto the Senate floor, many of the seats are filled by women. They are young and old, some in suits and some in bright shirts with pro-choice slogans emblazoned across the front.
They watch the drama play out in the chamber below, as a handful of Democrats and an even smaller number of women make clear their outrage over the abortion ban that will pass in just a few hours, and in a day, will become law.
The activists next to me in the gallery laugh and gasp with each argument and reply. Some shout an 'Amen!' in agreement as the debate continues.
When a female lawmaker steps up to the microphone, she says: We do not police men's bodies the way we police women's – and this decision about an issue concerning women so intimately is being made almost entirely by men.
Though women make up 51% of Alabama's population, its lawmakers are 85% male. There are only four women in the 35-seat Alabama Senate, and they are all Democrats.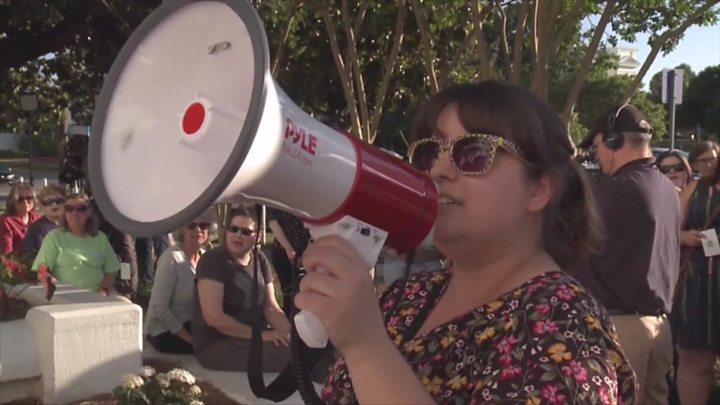 Outside the stark white walls of the State House on Tuesday night, however, women were in the majority. Groups of pro-choice supporters chanted for hours in the courtyard, holding signs calling for abortion freedoms, for women alone to decide what happens to their own bodies.
Delaney Burlingame, one of the young pro-choice activists I met there, told me: "These people don't care about protecting human rights. It's about controlling women."
"They just want to be able to say: 'I control what happens in your body'."

So, should men be involved in this debate at all?
Alabama's abortion ban – one of several in a Trump-era surge in anti-abortion legislation – has reignited the debate around another key question: Should men be involved in this battle at all?
Internet forums like Reddit and social platforms like Twitter and Facebook are saturated with arguments for both sides. Yes – these laws affect everyone, including men. No – only women get pregnant, so why should we let men decide?
Travis Jackson was one of the few men who joined in the protests outside of the Montgomery capitol building, donning a shirt that read: real men support women's rights.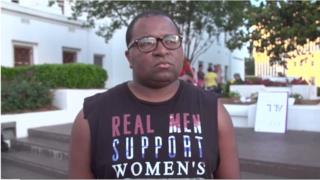 But Mr Jackson would not offer his own opinion on abortion, exactly, saying instead he prefers to stay silent on the specifics since "women are the only experts when it comes to their bodies".
"When it comes to the abortion debate, I think men should say it is a woman's right to choose," he explains.
"That is their body, that is their choice, and that is their business. No man whatsoever has a right to tell a woman what's right for their body."
Jordan Kizer is against abortion but says he thinks Mr Jackson's decision is "honourable", and that men should "share their privilege".
"Believe women, trust women. If they're telling you they feel a certain way or that this is their experience, you [as a man] don't get to say no, it's not," he says.
Mr Kizer is a part of the New Wave Feminists group in Austin, Texas, that seeks to promote women's rights as a means of making abortion eventually "unthinkable and unnecessary".
"I think a woman should absolutely have a say over her body, I just draw the line between her body and this different body that's inside of her body," he says. "I know that's kind of a tricky distinction to make for some."
On the other side of the debate, Oren Jacobson, a founder of the Men4Choice advocacy group, also believes the issue affects everyone – but that male allies should fight for women to have the freedom to make whatever decision they choose.
"Too many pro-choice men think this is just a 'women's issue' and it's not their place. This is an issue that impacts all of us, and will require all of us to engage if we want to create a society where all are free to pursue the life they envision for themselves and their family."
Mr Jacobson tells me the issue really isn't about abortion, but freedom and control.
"No person can be free if they don't control their own body, their own healthcare, and their own reproductive decisions. The role of men is to advocate for the basic freedom and dignity of all people."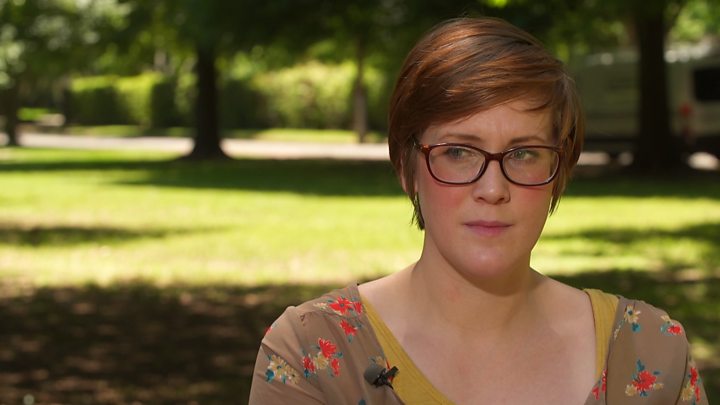 Anti-abortion activists, however, argue that placing the burden of choice entirely on a woman alienates men and allows them to shirk the responsibilities of fatherhood.
Derrick Jones, communications director for the oldest US anti-abortion group, the National Right to Life Committee (NRLC), told me men should be involved in the discussions because "statistically speaking, half of the children aborted every year are male".
"To say that this is wholly a woman's issue misses the point of it being much larger than that. It's a human rights issue. To say, you're a man, you're not carrying this child, to dismiss the idea that men can have an opinion on human rights is insulting."
Mr Jones adds that there should "absolutely" be more female representation when it comes to legislative bodies like Alabama's, but notes that many of the anti-abortion movement's leaders are women.

Women are just as divided about men
Carol Clark was one of the first protesters to show up in front of the state house in Montgomery, and she stayed into the night, right until the bill passed the Senate.
"Let a woman choose what she's going to do with her body," she told me, voice cracking with emotion. "It's not his body. It's her body."
That view is echoed by most of the women I spoke with at the protests in Alabama; that women should dictate abortion laws because women must carry the baby, must deal with the social and medical repercussions of pregnancy and having a child.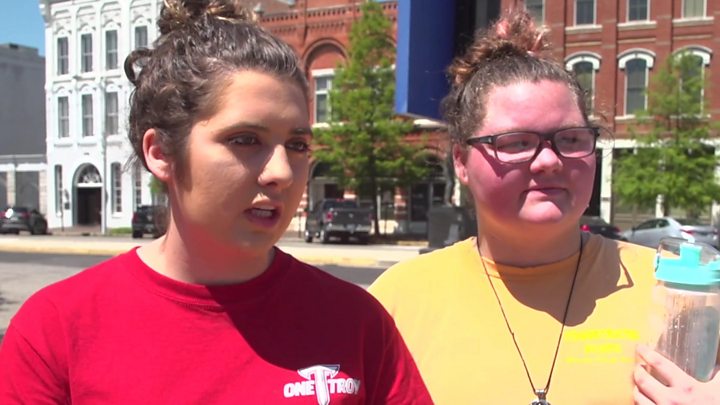 But on the streets of downtown Montgomery – and many other US states with conservative leanings – there are many women against granting that choice.
Some are nuanced – like a mother who could only say she was against abortion but that it was "complicated" – but others are just as hard-line as some Republican lawmakers – like two young women who told me abortion should be banned even in cases involving rape, incest or the health of the mother.
Catherine Coyle, a psychologist and an advocate for men's health and rights, says that giving women "unilateral power in abortion decisions is inconsistent with the notion of equality between the sexes".
"As equal citizens [men] should surely have a right to voice their opinions on the topic of abortion," Ms Coyle says. "As co-creators of life, they should be acknowledged as having a legitimate interest in the protection of that life."

Where do most Americans stand?
For all the debate, the views across the country on abortion are largely the same even along gender lines.
According to a 2018 Pew Research Center study, 60% of women say abortion should be legal in all or most cases, with 57% of men in agreement.
Around 60% of black and white Americans polled were also in support of legal abortion in most cases, though the support was lower among Hispanic Americans at 49%.
But along pro-choice or anti-abortion lines, a 2018 poll from Gallup found the country split evenly. Even among women, 48% identified as pro-choice and 47% as anti-abortion.
Gallup also reported that though around "eight in 10 Americans believe abortion should be legal in all or some circumstances, further probing of their attitudes finds the public favouring more restrictive rather than less restrictive laws".

Are men really making these laws?
It is true that in states with more conservative abortion laws, men make up a greater percentage of the legislative houses.
In Alabama, though the governor who signed the abortion bill into law is a woman, The Rutgers University Center for American Women and Politics (CAWP) still ranks Alabama as 47 out of 50 in terms of female representation in the legislature.
And while women saw major gains in holding public office during the 2018 mid-term elections, the vast majority of those new female lawmakers were Democrats who support pro-choice laws.
A Washington Post analysis of the state legislative houses in Alabama, Missouri and Georgia found that out of 367 in favour votes on abortion bans, seven out of eight votes were from men – and mostly Republican men. Of the total 154 votes against in the chambers, over half were from women, though most women lawmakers even at the state level are Democrats.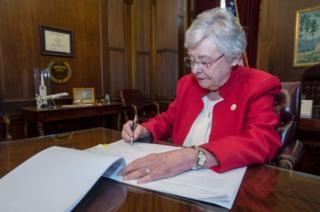 In the four states that passed six-week abortion bans – "heartbeat bills" – this year, women make up an average of 23% of the state legislature, according to CAWP. Mississippi is the lowest of that group and the nation, with women holding just over 13% of seats.
Even so, anti-abortion activists are quick to point out that Alabama's ban was sponsored by state congresswoman Terri Collins and signed into law by one of the nation's few female governors, Kay Ivey.
Destiny Herndon-De La Rosa, founder of New Wave Feminists, adds: "The irony is that it was older white men that gave us Roe [vs Wade] in the first place."
"We tend to pick and choose which older white men we want to agree with. You have to get beyond that and realise that a lot of the people in this [anti-abortion] movement are very diverse, and we are females."
Alabama Executes a Murderer a Day After Banning Abortions
By Adeel Hassan and Alan BlinderMay 16, 2019
Gov. Kay Ivey of Alabama said she would allow the scheduled execution of a convicted murderer to go ahead on Thursday, a day after she signed into law a near-total ban on abortions.Blake Paterson/Associated Press
Alabama executed a convicted murderer on Thursday, a day after the state enacted a near-total ban on abortions — two actions on contentious social issues that often have people across the political spectrum invoking the sanctity of human life.
"It's a contradiction that I always observed," said Hannah Cox, the national manager of Conservatives Concerned About the Death Penalty, an advocacy group. Approving of executions, Ms. Cox said, is "a stance that cheapens the pro-life argument."
Ms. Cox, who is originally from Alabama and opposes both abortion and the death penalty, said that more conservatives were coming to feel the same way, offering as evidence Republican-sponsored bills to repealthe death penalty that have been introduced in 11 state legislatures.
Michael Brandon Samra was executed by lethal injection Thursday evening, according to the Alabama attorney general, Steven T. Marshall. Mr. Samra and a friend, Mark Duke, were convicted in 1997 of killing four people — Mr. Duke's father, the father's girlfriend and the girlfriend's two young daughters — after a dispute over a pickup truck. Both defendants were sentenced to death, but Mr. Duke's sentence was later overturned because he was 16 at the time of the killings; Mr. Samra was 19.
Though the timing was coincidental, the actions taken by Alabama on consecutive days served to highlight widely held positions on the political right that some people say are in conflict, with protecting human life held paramount in one context but not another.
Gov. Kay Ivey, who declined to halt the scheduled execution, has expressed some discomfort with her role in the death penalty. Early in her tenure, she said she did not "relish the responsibility that I hold" in capital cases, and she has repeatedly depicted it as an unwelcome duty of her office.
"How to proceed when faced with a potential execution is one of the most difficult decisions I will ever have to make as governor," she said after one execution. "No governor covets the responsibility of weighing the merits of life or death; but it is a burden I accept as part of my pledge to uphold the laws of this state."
Even so, Ms. Ivey has not used her authority under the state constitution to reprieve or commute any death sentence since she took office in April 2017. The state, which carries out executions at an aging prison near the Florida border, has executed six people during her tenure; Mr. Samra was the seventh.
A spokeswoman for the governor did not respond to messages on Thursday seeking comment, but Ms. Ivey issued a statement after Mr. Samra was put to death.
"Alabama will not stand for the loss of life in our state, and with this heinous crime, we must respond with punishment," the statement said. "These four victims deserved a future, and Mr. Samra took that opportunity away from them and did so with no sense of remorse. This evening justice has been delivered to the loved ones of these victims, and it signals that Alabama does not tolerate murderous acts of any nature."
Alabama currently has 176 more prisoners awaiting execution. All but two of them were convicted of murder; 65 have been on death row for more than 20 years.
While death penalty opponents like Ms. Cox wonder how Christian conservatives like the governor can oppose abortion but uphold execution, others say the two stances become coherent when viewed through a lens of innocence and guilt.
"In a sense, it's perfectly comprehensible," said Mark Silk, a professor of religion at Trinity College. "Their view is that unborn babies and fetuses are innocent life. They've done nothing to merit the death penalty. Whereas murderers have done something to merit the death penalty. It's an eye for an eye, a tooth for a tooth. It's how they look at the world."
Professor Silk said that white evangelicals in particular, who make up more than half the electorate in Alabama, may run into difficulty when men or women "find their way to Jesus" while on death row.
"So much of evangelicalism has to do with conversion," he said. "That's such a core experience for them. A murderer or rapist finding their way to God is as powerful a manifestation of conversion that you can find."
Ms. Cox said she found the argument that life is something to be protected only when it is innocent to be "flimsy."
"People should be still held accountable, but there should be more nuance," she said. "You are not the sum of the worst thing you've ever done."
The Catholic Church's teachings oppose both abortion and capital punishment on similar grounds.
"Pro-life values are meaningless when they are inconsistent," said Krisanne Vaillancourt Murphy, executive director of the Catholic Mobilizing Network, a group working to end capital punishment. "The sanctity of human life applies to each and every person, innocent and guilty," she said, adding that the church teaches that a person's God-given dignity "is not lost even after the commission of very serious crimes."
"As Pope Francis has said, 'There is no just penalty that is not open to hope,'" Ms. Murphy said. "That is why the death penalty is neither Christian nor human."
A scholar of evangelical Christianity said that most evangelicals in Alabama probably feel no tension between support for the death penalty and opposition to abortion.
"Most conservative evangelicals wouldn't think twice about executing someone and then going to a pro-life march the next day," said John Fea, a history professor at Messiah College. He said their views have often been shaped by the political battles that have raged over social issues in recent decades, so that, for example, they also tend to oppose spending tax money on government programs that might reduce the number of unwanted pregnancies.
Progressive evangelicals see the issues differently, Mr. Fea said, but "they are a minority in the state of Alabama and most of the evangelical South."
The Southern Baptist Convention, the largest evangelical denomination, says its support of the death penalty has roots in biblical teachings. "Imposing the death penalty can help the murderer restore the broken relationship with their creator, not just with humankind," says an article posted by an arm of the convention that addresses public issues. "While we have an interest in a criminal's return to society, we should be even more concerned with the state of their soul."